A billion is just the beginning
What 'unicorn' status means for our partners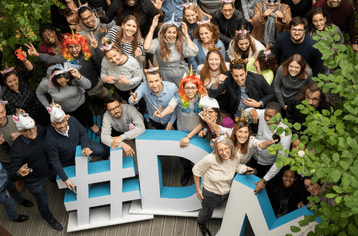 Seven years ago, with the idea that dental care deserved the same technological transformation that countless other industries had undergone, DentalMonitoring started its journey to become the leader in a space that had not yet been established. Now we are humbled to announce where that path has taken us.
With our most recent round of funding complete, DentalMonitoring has raised $150 million in growth financing to bring the company's valuation more than $1 billion — making us the first dental software company in the world to achieve 'unicorn' status. 
Led by investments from leading global investment firms Mérieux Equity Partners and Vitruvian Partners, this influx of capital represents one of the major accomplishments in our history. 
"This achievement marks a new milestone for the company, and is a testament to the new standard of care our team has brought to the profession," DentalMonitoring CEO Philippe Salah said. "We will continue to deliver even more innovative solutions for dental professionals to help them provide better care and scale their practices."
In short, it's big news for us. But for our partners, it means even more.
With the investment, our mission to continue leading the industry in doctor-driven AI solutions for dental practices becomes more possible than before. We're growing rapidly as a company — both in terms of breadth of reach and depth of knowledge, and our commitment to advancing remote monitoring applications for orthodontic and general dentistry makes that expansion critical to the service we provide to our partners. 
Plans to double the number of employees across the world, with a focus on increasing our personnel in the United States.
Maintain our investments  in researching and developing software solutions aimed at bettering dental practices. 
Expansion into Asia, specifically China and Japan, increasing our global presence and bettering the quality of our service.
Targeting relevant acquisitions to bolster our technological advantage and remain at the cutting edge of the field.
Transformative change takes courage to undergo, let alone to be the one instituting that change. But what emboldens us to go further, to question our own conclusions, to always keep an eye on what's next and to never be satisfied with the present — even if it's better than the past — is when we see the success of our partners. As competitive as the field of orthodontics has become, with pressures ranging from changing oral health habits to unconventional modes of treatment, staying competitive means not just trusting any new company at its word — it means trusting your practice with a partner that has a track record of successful implementation of its solutions. 
According to Torsten Winkler of Vitruvian Partners, "DentalMonitoring is the biggest disrupter to the (dental and orthodontic) field since intraoral scanners in the 1990s and digital imaging in the 1980s." That disruption comes from our commitment to always improving ourselves in order to improve the practices we partner with. It took years to amass the largest dental image database in the world, and now our industry-defining AI is powered by more than one billion images and one million patients. That means more accurate results and less guesswork done by the providers, freeing them to take time where it matters: with their patients. 
DentalMonitoring is never more proud than when we hear from practices that have become able to thrive in uncertain times thanks to the solutions we offer. From finding more high-quality leads and triaging them through SmileMate, to our flagship solution's ability to monitor more than 130 oral conditions remotely, every enhancement of the provider's expertise means one more patient is able to receive the quality of care they have come to expect. 
And to those partners who have been with us, we offer our deepest gratitude. Your success is what pushes us forward, and it is what allows us to offer even better solutions in the future. As patient expectations evolve, your commitment to providing them with the latest in oral health strategies makes it possible.
Despite DentalMonitoring being a 'unicorn,' we can assure you that none of it is from magic and mythical quests. It's hard work from us and our commitment to you, dental professionals, that drives us to keep innovating remote monitoring solutions. It means treasuring the trust shown in us to keep bettering ourselves and to make your investments scale with your success, and it's that success that keeps our futures aligned to even greater heights.
AD_COR_WB_Unicorn Announcement Blog_039_01_rd_H_MF_en