The insider spotlight
Learn directly from the pioneers in
AI-powered dentistry solutions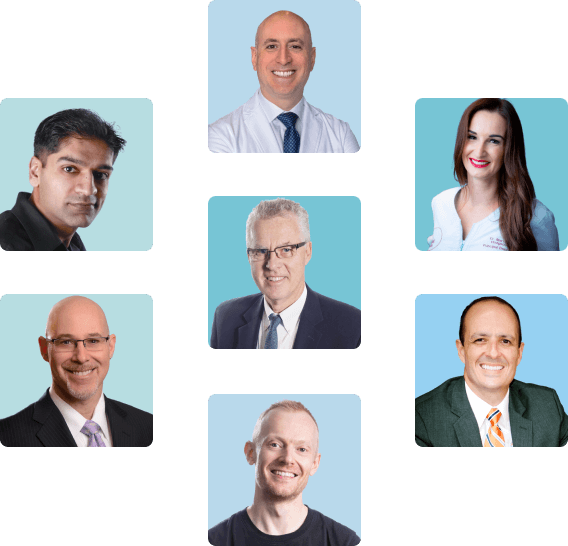 Watch videos from dental professionals just like you to learn
tips and strategies for creating a successful virtual practice.
Anticipate upcoming appointments
Dr. Steven Olsburgh
Dr. Olsburgh will discuss in this spotlight, the use of DentalMonitoring as a powerful tool to anticipate upcoming appointments, the benefit to your orthodontic practice and your patients, as well as the practice uses to evaluate fixed appliance patients and what to look for in the scans.
ROI with fixed appliances monitoring
Dr. Murtuza Hasnaini
During this session, Dr. Hasnaini will discuss how he uses DentalMonitoring for fixed appliance patients, including how braces monitoring works and what's the advantage of using DM. He will also talk about the efficiencies possible as a result of using remote monitoring for braces cases.
How artificial intelligence is reshaping dentistry
Dr. Rayan Skafi
Dr. Rayan Skafi, Clinical Education Officer at DentalMonitoring, will discuss how artificial intelligence (AI) in changing the industry by answer the most common questions on the topic. This will include how it works, how it's used in our solutions and the impact on practice processes.
Read the highlights from top
success stories
In The News
We're making headlines.
All around the world.
View our press page to see what the industry has to say about us.
Read the headlines
Have a question only an expert can answer?
Please fill out the form and we will find an insider who knows the answer. Check back regularly to see if we've covered your topic!
© 2021 This page hosts feedback from healthcare professionals using our products. This feedback is provided by various professional users contributing to this website and result exclusively from their individual professional experience and daily use of our products. Dental Monitoring SAS does not guarantee the accuracy and the exhaustiveness of the healthcare professionals' experiences and, therefore, shall not be held liable for any direct or indirect damages suffered by users of this website or by third parties and resulting from the healthcare professionals' experiences and feedback. Products availability, claims and regulatory status may differ across countries depending on local regulations and applicable laws. Contact your local representative for further information.