How to Stand Out from the Practice Down the Street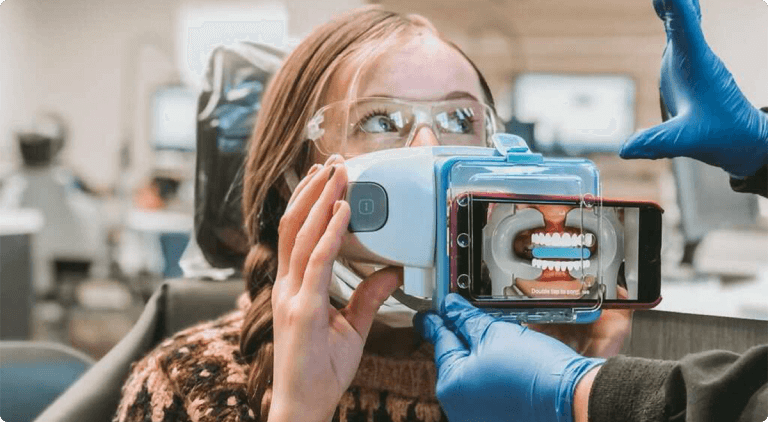 You work hard to run an efficient orthodontic practice and to take the best possible care of your patients. However, as our nation faces the largest decrease in G.D.P. on record, it will be more important than ever to make sure your clinic sets itself apart from others dental and orthodontic practices offering treatment to continue growing long after the pandemic effects subside.
So, what more can you do? How do you ensure your clinic's efforts translate to lasting patient loyalty and new patient intake?
• Give Patients What They Want.
Many patients are concerned about health risks brought on by visiting a clinic during the pandemic, while some are balancing increasingly busy schedules between childcare and work. An incentive for them to make time for themselves could be offering virtual appointments through teledentistry.
SmileMate is our HIPAA- and GRPR-compliant solution that provides secure, virtual consultations to assess new patients' oral conditions. It offers a website integration that is easy-to-use for new and existing patients to communicate with you and your practice via email and video. For a busy patient, this ease of communication could be a lifesaver!
• Give Patients What They Need.
What have your patients been telling you that your clinic is lacking? Is it more communication with the office? Weekend appointments? Financing options? If you're not sure where to start, try sending a survey out to your patient email list. There are many free or inexpensive options for sending digital surveys, such as Google Forms or SurveyMonkey.
Keep your survey short and sweet – but create an opportunity for patients to raise their hand and tell you what they need from your practice. You might be surprised at what they think is missing! Even if already satisfied, patients will appreciate you taking the time to ensure they are being best served by the clinic.
Personal relationships go a long way in building patient loyalty and retaining them for years to come. Did you know that, according to the ADA, 22 percent of patients forgo dental appointments because they are simply afraid of the dentist? We know you're not that scary!
By making a patient feel welcomed and heard at their appointments, you will help them relax and be more likely to prioritize their dental/orthodontic care for the next time. We recommend that staff take notes about patient conversations in your system to follow up on next time. These notes should be about more than just teeth- get personal! Did the patient mention any upcoming weddings, birthdays or home renovations? In addition, consider including a quick phone follow-up to check in on patients post-appointment to let them know that they are valued.
Don't be shy about asking your patients to refer friends and loved ones to your clinic! Satisfied patients can be your greatest ambassador. Not only do referrals increase the likelihood that contacts will become patients, but referral patients are also more likely to stick around. Researchers at the University of Pennsylvania's Wharton School of Business found that the time it takes a referred customer to leave a company is 18 percent slower than the average, off-the-street customer. It may feel self-promotional to ask, but satisfied patients will be happy to oblige – and will likely feel great after. Behind the psychology of it, recommending a product or service to friends is an act of social belonging, reciprocity and trust. What's there to lose in asking?
In today's virtual world, consumers have become accustomed to expecting convenience at every turn. Grocery pick-up in an hour? Done. Online shopping, delivered in a couple days? Old news. How will your practice fulfill this growing expectation?
One way to maximize convenience and communication with your patients is through DentalMonitoring. Via our orthodontic solution, you're able to monitor patients remotely in-between in-office appointments and together you can see the evolution of you're their aligner or braces treatment. The DM ScanBox and DM App allow your patients to submit intraoral pictures whenever and wherever they have access to their smartphone. How convenient is that?
There's no one right answer when deciding how to make sure your clinic differentiates itself in your local market. It all comes down to listening to your patients' needs and making sure that they are met- and then exceeded!
If you are interested in exploring how we could help you get your virtual practice up and running? Visit
dental-monitoring.com/contactus
to get in touch with one of our dedicated Account Executives to learn how we've helped differentiate other practices.
AD_COR_WB_Blog - Stand out from other practices_037_01_rd_H_MF_en