Leveraging technology to create for Beautiful Smiles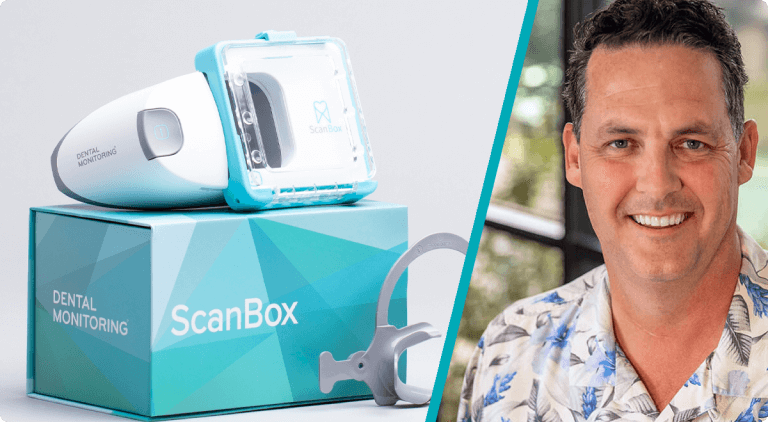 As a board-certified and much beloved specialist in orthodontic and dentofacial orthopedics, Dr. Frank Sharp combines technology and creativity to provide patients with the smiles they dream of. Based out of two locations in Missouri, Dr. Sharp, along with his partner Dr. Laura Moore and their team, puts patients first in all decision-making. At Sharp Orthodontics, this approach has driven the use of innovative solutions like DentalMonitoring, which they use for all their aligners and braces patients, and for overall staff management and education. After nearly 30 years in practice, Sharp certainly has a clear vision on what works and doesn't in his practices. And after using DentalMonitoring for two-and-a-half years, Dr. Sharp sees concrete benefits.
When it comes to aligners patients, DentalMonitoring (DM) has brought improvements both for patients and teams. Better aligner tracking, patient accountability, superior treatment outcomes in less time, a more streamlined patient journey — these are major advances for everyone involved. Specifically for braces patients, Sharp Orthodontics has seen similar results, including shorter treatment times; better patient accountability and treatment outcomes; resulting in a lot of happy customers. Thanks to the treatment oversight made possible by DM, there are fewer surprises and 90% fewer emergencies. Doctors and staff have now full visibility of treatment throughout and communication between teams and patients has dramatically improved for the best.
Among its benefits to the staff, Dr. Sharp notes that DM is an excellent tool for keeping his team involved, accountable and collaborating. Thanks to the monitoring software and data capture, Sharp can show his staff how teeth move on a granular, weekly basis, ultimately making it easier to catch mistakes in real time. The staff also gets to be more directly involved in patient care and communication. Overall, the DM virtual practice solutions foster a healthy team spirit and reinforce doctor and staff education, keeping everyone aligned.
While prior to using DM, Sharp doubted that a remote tool could help bridge communication with patients, he notes that now, "there's more communication than ever before." His patients (and their parents) feel more connected thanks to 24/7 messaging and emergency contact options at their fingertips. Patients trust the technology and love the convenience. With DM's virtual solutions in place, treatment is tracked regularly, essentially eliminating emergency visits. In-office appointments are down by 50%, saving precious time for both patients and practice staff.
For Dr. Sharp, the ROIs are clear; DentalMonitoring represents "the new standard of care," and he hopes to see all dentists and orthodontists using DM in the next 3 to 5 years. The solutions, which save time, improve outcomes and drive patient traffic, allow stand-alone or small practice groups to compete with direct-to-consumer dentistry, and to do so in a sustainable manner. A streamlined workflow means the ability to provide better care for more patients over time.
Disclaimer: This content hosts feedbacks from healthcare professionals using our products. Those feedbacks are provided by various professional users contributing to this content and result exclusively from their individual professional experience and daily use of our products.
Dental Monitoring SAS does not guarantee the accuracy and the exhaustiveness of the healthcare professionals' experiences and, therefore, shall not be held liable for any direct or indirect damages suffered by users of this content or by third parties and resulting from the healthcare professionals' experiences and feedbacks.
Product availability, claims and regulatory status may differ across countries depending on local regulations and applicable laws. Contact your local representative for further information.
---
AD_MON_PA_Frank Sharp: Leveraging technology to create for Beautiful Smiles_009_01_pr_H_MF_en