ScanBox pro: Because innovation never stops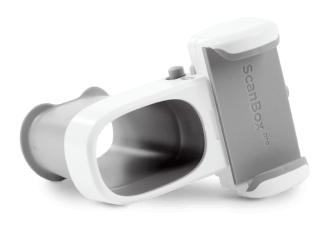 Innovation isn't a tagline. It's the foundation of DentalMonitoring's success, and it's how we've become the first dental software company in the world to attain 'unicorn' status. That means constantly re-evaluating our solutions and improving upon them with providers in mind, taking the time to make it right — not just make it so.
That's why we're thrilled to introduce you to the ScanBox pro, DentalMonitoring's all-new hardware solution.
Our industry-defining AI solutions are built to seamlessly integrate more points of contact with dental professionals and their patients, handling every orthodontic appliance and brand preferred by providers. The ScanBoxpro
 takes the utility of the original DM ScanBox and streamlines its design, improves the quality of images captured, and creates more consistent scans. It is the more-perfect pair to the DM App, creating a harmonious and reliable duo for providers to utilize for greater insights into the treatments of their patients.
Years of research and development went into making the ScanBoxpro DentalMonitoring's latest answer to our perpetual question: How do we help make the lives of dental professionals and their patients better? 
For the ScanBoxpro, that meant lighter, simpler construction than our original DM ScanBox. Though both sets of hardware work with the DM patient app, the ScanBoxpro features an exchangeable, integrated Cheek Retractor Tube that makes scans more-easily processed by our proprietary software. 
And at just 41% of the total volume compared to the original, the ScanBoxpro means simpler storage in your office — and easier transportation for patients who need to scan on the go. 
With the ScanBoxpro, here are just a few of the benefits you can expect: 
Consistent imaging over time for precise tracking of treatment progress
Excellent occlusal and lateral views, including molar occlusion
Increased portability and streamlined usage
Three sizes of Cheek Retractor Tubes to accommodate a wide range of mouth sizes, from children age 6 to adult
Autoclavable capacity for easier sanitation 
With a global base of expertise and the largest database of dental images in the industry, DentalMonitoring is prepared to handle your organization's needs. Our flagship solution automates workflows and protocols to your patients' needs, eliminating some of the non-clinical work that takes providers away from their care. 
AD_HDW_WB_Scanbox pro Launch Blog post_001_01_rd_H_MF_en